About
KB Electronics, Inc. manufactures high quality AC Variable Frequency Drives (Inverters), DC Variable Speed Motor Controls, Brushless DC Drives and DC-DC Battery Controls. Our DriveSearch™ Program can speed you through the process of selecting a drive that will meet your application requirements.
When an off the shelf standard motor drive is not what you need, KB's team of engineers will work with you to create a custom motor drive solution, ready to use "Out-of-the-Box." Reduce cost by purchasing the exact control for your application without unnecessary extras.
KB Controls are Better. Here's Why...
KB Electronics continues to dominate the fractional to 5-horsepower DC Drive Speed Control market. While DC motors and drives offer the user the ultimate in high performance, small size and low cost, small AC motors and drives are challenging that very concept. Our goal was to develop a line of AC Drives that would and could replace DC controls. Today KB offers you, our customer, AC Drives that match the performance of DC drives but fit within the same footprint or are smaller than their DC counterparts.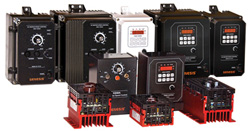 Everything you have read about KB products in the past is still true however, a whole new chapter of the future of KB Electronics is being written.
Many of our Penta-Power products contain the patented KBMM current limit circuit, other products feature current feedback loops with motor burnout protection. Our PWM controls are short circuit proof and prevent high speed runaway. KB controls will satisfy your most demanding requirements.
Supplier Directory Categories
KB Electronics, Inc. is listed in these categories:
Technical Articles