About
Kaman Industrial Technologies Corporation is a subsidiary of Kaman Corporation. Kaman Corporation (NASDAQ-GS: KAMN), founded in 1945 by aviation pioneer Charles H. Kaman, and headquartered in Bloomfield, Connecticut conducts business in the aerospace and industrial distribution markets.
Kaman, is a leading distributor of industrial parts, and operates more than 200 customer service centers and five distribution centers across North America. Kaman offers more than four million items including bearings, mechanical power transmission, electrical & automation, material handling, motion control, fluid power and MRO supplies to customers in virtually every industry.
Service beyond the Parts
We go beyond the role of traditional supplier to become a business partner with customers, helping them manage their operations with a range of specialized services. Kaman provides engineering, design and support for automation, electrical, linear, hydraulic and pneumatic systems as well as belting and rubber fabrication, customized mechanical services, hose assemblies, repair, fluid analysis and energy management.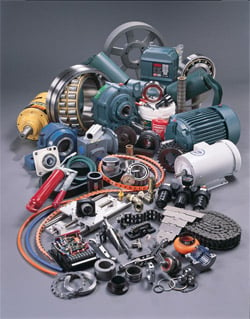 Value-Added Programs
Additionally, Kaman offers programs that go beyond the role of product provider; programs proven to deliver a reduction in the total cost of doing business. Our Documented Savings™ program, pioneered in the industry by Kaman, is a management tool that identifies and documents potential product and process improvements for your direct benefit. Other specialized programs include equipment and storeroom surveys; inventory management; database management; maintenance seminars; warranty tracking; and the ability to custom-order by your unique customer part number.
Customer Care
Kaman Industrial Technologies' focus on customer service is facilitated both by a dedication to innovation, as well as our hands-on local presence. An Account Manager has direct responsibility for each individual plant location we serve. The primary contact on a day-to-day basis, this person works closely with our customer service and operation teams to manage customer expectations. We also employ product specialists throughout the company with established expertise in the areas of automation & control, mechanical, electrical, fluid power and material handling. Specialists provide our customers specific product expertise in trouble-shooting, upgrading from a current product, and securing cost-effective alternatives.
How can we help?
Ultimately, our goal is to keep your plant running smoothly and efficiently, and to solve your most demanding problems to help your company become more productive and more profitable. Contact a Kaman representative for an in-plant consultation.
Supplier Directory Categories
Kaman Industrial Technologies is listed in these categories:
Technical Articles