About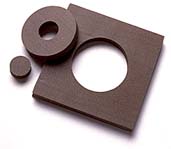 Nott Company's Rubber Fabrication Division services manufacturing companies with state-of-the-art components from their two ISO 9001:2000 registered plants for various industries including Industrial and Commercial Machinery manufacturing, Electronics manufacturing, Transportation Equipment, Packaging, Medical, Aerospace, and Defense.
The Rubber Fabrication Division is a comprehensive manufacturer and distributor of products made from raw materials including natural rubber, synthetic rubber, silicone, and fluorosilicone derivatives in dense and sponge form; flexible foams and films; and high performance adhesive tapes.
The company's manufacturing facilities provide die-cutting, vulcanizing, slitting, laminating, molding and extruding from three Midwest locations. Nott Company maintains their leadership by supplying only the finest quality materials in any quantity, by continuing to develop new fabrication techniques, and most significantly by providing precise solutions to their customers needs.
Let Nott Company put their innovation and experience to work for you. They have over a century of experience in "putting out fires" in critical business situations!
Supplier Directory Categories
Nott Company, Rubber Fabrication Div. is listed in these categories: