Profile Home
About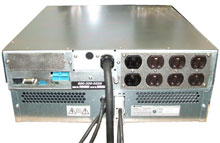 Powerstar simply manufactures the best rugged militarized UPS for commercial, the military, and homeland defense. Powerstar is a private American company in business since 1993 and does all its manufacturing in the United States using only high quality motherboards. Powerstar builds Uninterruptible Power Supplies solutions for both the government and commercial.

Powerstar Inc. is a specialist in ruggedizing units for Shipboard Power and vehicular applications. They have multiple units that have passed the strenuous shock (MIL901D grade A, MIL810F) and vibration (MIL167) and electrical tests of the US Navy and Army. Some of their chassis are built in gleaming 304 grade stainless steel with fully welded seams for sea going rust resistance and anti-magnetic properties. Many models have internal Isolation transformers for shock hazard elimination and electrical noise reduction. Powerstar can build their equipment for International use as well. Many units have been custom designed on customer requests - and they can do this for you too.

Powerstar rugged UPS products are used for Oil Spars, Cruise Ships, Tug Boats, Yachts as well as Homeland Security, GEDMS / FODMS, ADMACS, COBLU, SSDS, GBS, NECC, JTIDS, ADNS, Shipboard satellite links,White House Comm., C4I command and control, FAA air traffic controls, Blade servers, Smart Ship OSD. They ride onboard HMMWV, Navy Arleigh Burke class destroyers, the new LCS, DDG, DDX, Ticonderoga class, CVN, MCM, MHC, Coastal patrol PC Boats, Virginia, SSGN, SSBN class submarines among others. Their Engineers have developed products with engineers from L-3, NG, GD, Electric Boat, Newport News Shipbuilding, Lockheed and Boeing. Customers include Army SARSS, Army CECOM, Navy Tampa, CENTCOM QATAR, Military Sealift Command, Air Force Tampa, USCG, Inmarsat, Damneck, Spawar headquarters in-house servers, USGS Earthquake Centers, National Severe Weather Warning vehicles (tornado hunters!). Their equipment is used for payroll computers, medical equipment, Tomahawk Missile Launchers, IMF global offices, Macedonian Joint Operations Centers, and many other mission critical sites.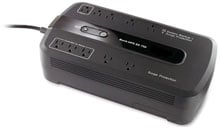 Other products include UPS installed in outdoor enclosures, Low Cost shipboard UPS, High performance long life replacement battery packs for their units, Isolation transformers, Voltage converters, and auto voltage sensing UPS for global use. Accessories include fan & keyboard trays & rack mount kits. All of Powerstar's products meet Military specifications and are UL & FCC listed.
Powerstar accepts commercial credit cards and Government Impact Credit Cards for open market orders for power and UPS Products.
DUNS: 827224320 TIN: 52-18500150015 CAGE code: 0zap8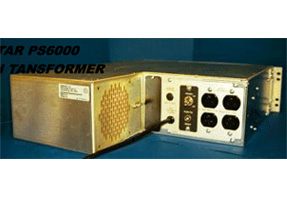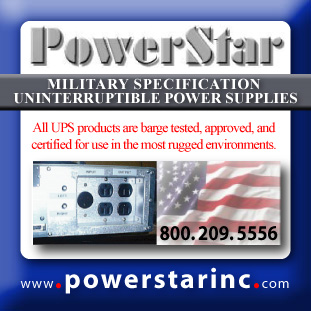 Technical Articles

GEDMS
(Uninterruptible Power Supplies)
US destroyers have 29 networked Aegis systems per destroyer... (
View Full Article
)