About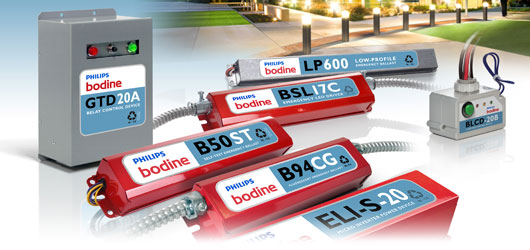 Philips Emergency Lighting designs and manufactures award-winning, innovative Philips Bodine brand emergency and specialty lighting products. With half a century of experience, Philips Emergency Lighting is an industry leader.
We offer a diverse line that includes:
Fluorescent emergency ballasts
HID backup ballasts
Generator-compatible products
Emergency LED drivers and
Mini and micro inverters

Philips Bodine products are UL Listed for field or factory installation or UL Component Recognized for factory installation only.
Emergency lighting is an important part of every facility's life safety program. Building and electrical codes require reliable and sufficient emergency illumination for commercial, industrial and institutional structures. When normal power fails, emergency lighting is critical.
Our goal is to help you specify emergency lighting with confidence. We've been helping customers for 50 years. Philips Emergency Lighting celebrates its golden anniversary in 2012.
Supplier Directory Categories
Philips Emergency Lighting is also listed in these categories: