Profile Home
About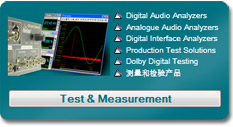 The company was originally founded in 1987 as Prism Sound Ltd, the brainchild of two engineers, Graham Boswell and Ian Dennis. They had first met when working on the ground-breaking DSP program at world-renowned audio mixing desk manufacturer Rupert Neve & Company in Cambridge, England. In its early years, Prism Sound became an acclaimed Research & Development consultancy, specialising in digital audio applications.
Prism Sound Group product ranges:
Test and Measurement:

dScope Series III precision dual domain (analogue & digital) audio analyzer / test system.
dS-NET digitally controlled Test & Measurement auxiliary equipment.
DSA-1 hand-held AES/EBU transmission analyzer
AutoTestSQL production test automation and logging system.

Recording and Production:

Ultra-high resolution A/D and D/A converters, including the ADA-8XR modular multi-channel unit, the Orpheus 8 channel FireWire converter, and the 2-channel AD-2 and DA-2 converters.
Analogue signal processors, including the Maselec MEA-2 Stereo Equalizer, MLA-2 Stereo Compressor and the MMA-4XR 4-channel microphone pre-amplifier.

Logging and Transcription:

TRANSERV multi-channel networked digital audio and data recorders for monitoring, logging and transcription applications.
Today, in addition to its comprehensive catalogue of products, Prism Sound still continues to provide R&D consultancy to outside clients whilst investing heavily in new technologies and new products. Continued investment in the future ensures that the Company will continue to grow, whilst staying at the forefront of technology.

The excellence and value of Prism Sound Group products and services has always appealed to the major names in the industry. Recent customers have included: Philips, Sony, Toshiba, AKM, Harman, Abbey Road Studios, Metropolis Studios, DTS, Jim Henson Co, Walt Disney, London Metropolitan Police, US Department of Justice, BBC, NHK, Sting, AMS-Neve, Solid State Logic, CBS, ABC.... the list goes on.
Technical Articles