About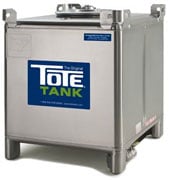 The One and Only,
THE ORIGINAL TOTE® TANK
Reusable, Returnable, Recyclable
Why put up with the dangerous, expensive, and environmentally taboo drums and barrels? Why put up with tanks you cannot trust nor up for the job? Why trust your most important cargo to a company you can't trust? Well, you don't have to because you have the only name you need to know. The Original TOTE® Tank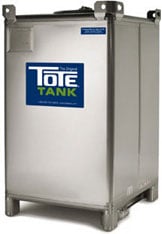 .
Industries Served
Thousands of Tote Tanks are in use every day, all over the world by Fortune 500 companies to small businesses. For 60 years Tote Tanks have been the standard for liquid packaging across many industries including:
Oil & Gas
Food and Beverage
Offshore
Pharmaceutical

Paint & Coating
Chemical
Many Others
Lease a tank and get a NEW safe, durable and fully functional IBC every time! Guaranteed!
"TOTE - the name that started an industry"
Supplier Directory Categories
The Original TOTE Tank is also listed in these categories: