About
Where Tradition Meets Innovation....
Wellman Furnaces, Inc. brings innovation together with the ability to engineer, design and build the answer to your heat processing problem. We offer our customers years of experience in the custom engineering of fuel fired and electrically heated furnaces and heat processing systems. Also, we are able to offer engineering services for the evaluation of equipment alternatives, process engineering and thermal analysis.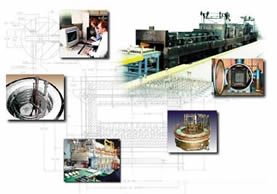 Wellman's roots can be traced to the General Electric Company's Industrial Heating Department which moved its operation from Schenectady, New York, to Shelbyville, Indiana, in 1955. In 1979, Wellman plc, a British company, purchased the Shelbyville operations from GE, renamed it Wellman Furnaces Inc. and retained all personnel for the design, manufacture and marketing of Industrial Heating Equipment. In 1988, the business was sold to the managers of the Shelbyville facility, who ran the Furnace company along with seven other purchased Wellman companies until 2003.
In 2003, Wellman Furnaces, Inc.'s ownership changed to its current status under Precious Technology Group, LLC. Precious Technology Group has transitioned Wellman Furnaces, Inc. into a versatile and capable entity able to carry on the responsibility entrusted to us by our customers.
Wellman serves a variety of customers, including users and E&C's, in a broad range of industries. We have worked closely with many US firms and have had extensive international experience dealing with customers in places such as Canada, China, Europe, Egypt, India, Japan, Mexico, Saudi Arabia, South Korea, and Thailand.
Supplier Directory Categories
Wellman Furnaces, Inc. is listed in these categories: