Profile Home
About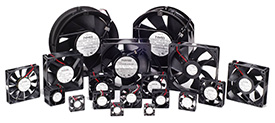 NMB Technologies Corporation, a Minebea Group Company, is a worldwide manufacturer of electro-mechanical components. NMB customers represent the largest OEMs in North America, and in such diverse industries as automotive, medical, industrial, office equipment, personal computers and smart devices, household appliances and others. As a worldwide manufacturer of electro-mechanical components, the NMB brand represents quality, accuracy, efficiency and performance.
NMB is a world leading manufacturer of:
• Miniature Bearings
• Fans and Blowers
• Motors
From the beginning, NMB has believed in creating strong partnerships with our customers. This commitment to our customers is demonstrated by making available local application engineers, knowledgeable direct sales, and partnering with world class distributors and local representatives who know our products and its quality inside out.
At NMB, our commitment to our customers compels us to protect the supply chain, drive cost efficiency, and hold quality to the highest standard. Quality in our people, quality in our services, and quality in our products, continues to be our primary component.
NMB has developed the following fan and motor common measurement conversion tools that they would like to share as a reference to their engineering community:
New Visual Fan Selector
Fan Conversion Calculator
Motor Conversion Calculator
Technical Articles

About Steel Ball Bearings
(Bearings and Bushings)
Ball bearings are machined components that include outer ring, inner ring, ball bearings, shielded bearings, snap rings, and more. Bearing material, purity, and hardness are important factors when... (
View Full Article
)

Axial Cooling Fans
(Fans and Electronic Cooling)
All electronic devices, irrespective of size or type, are manufactured to be operated in an optimum range of temperatures. This range is one of the important factors when determining the performance... (
View Full Article
)