About

VISIT US AT OUR UPCOMING TRADE SHOWS

Over 40 Years of Service— Power Technology, Inc. (PTI) has been a leading force in the Photonics Industry for over four decades. Since 1969, the company has been designing, manufacturing, and distributing high-quality OEM laser products for analytical, biomedical, industrial, semiconductor inspection, defense and security, and machine vision applications. PTI's extensive product line includes laser diode modules with wavelengths in the ultraviolet, visible, and infrared (263nm to 13,900nm range), temperature stabilized modules, lasers with beam circularization, continuous wave, pulsed, and modulated units. PTI's product offerings also include a wide array of laser options and accessories.

Wavelengths Across the Spectrum— Power Technology, Inc. offers a wide variety of wavelength choices to help ensure that its products meet the needs of your application. These choices include laser products in the ultraviolet, visible (violet, blue, green, and red), and infrared spectrum with specific wavelengths ranging from 263nm to 13,900nm.
TTL and Analog Modulation— To further meet the needs of your application, the company offers two types of modulation: TTL and analog. PTI's TTL lasers are capable of modulation from CW to 100MHz. Users can program these modules to enable, inhibit, or modulate a laser, making them excellent resources for synchronized applications. The company's analog lasers are capable of modulation from CW to 20MHz. Analog modulation allows users to adjust a laser's output to a desired level from 0 to 100%, providing added control.
Circular Beams— PTI offers a number of lasers that employ anamorphic correcting prisms to account for the naturally divergent, elliptical, and astigmatic nature of beams produced by laser diodes. The company also offers several modules that can incorporate a microlensed laser diode to produce a circular, diffraction-limited beam without the inclusion of correcting prisms. Still other modules can achieve beam circularization by coupling the beam into a fiber optic.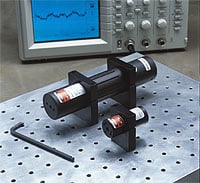 Active Temperature Control— Maintaining a constant, optimum operating temperature for a laser diode is essential. Effective thermal management extends the life of a diode and promotes stability of wavelength and optical power. Each PTI laser module is designed to provide a stable operating temperature for the diode. The company's more sophisticated modules incorporate a built-in active temperature control circuit, thermoelectric cooler, and fan.
ITAR Registered Manufacturer— Power Technology, Inc. is an International Traffic in Arms Regulations (ITAR) registered manufacturer. This registration expands the laser choices available to military and defense customers. Applications include laser diode sub-assemblies built for target designation, range finding, illumination for night vision, aiming/sighting and defensive countermeasures regardless of whether these are for UAV mounted, vehicle mounted, or hand-held systems.
Customer Satisfaction— Power Technology, Inc.'s ultimate goal is complete customer satisfaction. For over 40 years, the company has adhered to this goal, and it will continue its dedication to product development and innovation to bring new solutions to an ever-evolving industry.
Supplier Directory Categories
Power Technology, Inc. is listed in these categories:
Technical Articles