About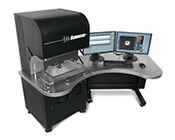 Sonoscan is the leading developer and manufacturer of acoustic microscopes and sophisticated acoustic micro imaging systems, widely used for nondestructive analysis of defects in industrial products and semiconductor devices. For over 30 years, Sonoscan's attention to customer needs and investment in R&D has created systems that set industry standards for speed and accuracy. Key products include C-SAM® systems for off-line and laboratory analysis and FACTS2™ for automated production inspection.
If your needs require it, Sonoscan can modify an existing instrument, or create a completely custom C-SAM® system that meets your inspection needs and precise demands. Typically, custom needs may involve the mechanical handling of odd shape or size components, customized software for specific types of data output, electronics enhancements to perform different scanning patterns and data acquisition and other improvements. Many of the past customizations of Sonoscan tools have had broad applications and were incorporated as features into recent model offerings.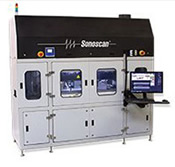 Through its SonoLab division Sonoscan applications engineers, with experience totaling more than two centuries in acoustic microscopy, assist hundreds of customers annually in solving materials problems and quality control issues. SonoLab operates applications testing laboratories in multiple global locations to serve the inspection needs of customers that do not have their own capability.
Sonoscan's engineers and scientists have authored more than 300 publications in the field of Acoustic Micro Imaging. Additionally, members of our technical staff are frequent speakers at national and international symposia, seminars and exhibitions. Topics range from general electronics to composites, ceramics, polymers, failure analysis, packaging, quality control and reliability. In addition, Sonoscan actively participates in many standards setting organizations as members and chairpersons.
Supplier Directory Categories
Sonoscan, Inc. is listed in these categories: