About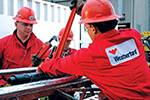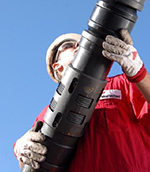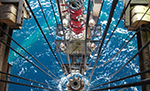 Weatherford is one of the largest multinational oilfield service companies providing innovative solutions, technology and services to the oil and gas industry. The Company operates in over 90 countries and has a network of approximately 880 locations, including manufacturing, service, research and development, and training facilities and employs approximately 29,500 people.

Weatherford delivers innovative technologies and services designed to meet the world's current and future energy needs in a safe, ethical, and sustainable manner. Grounded by our core values and inspired by our world-class people, we are committed to being a trusted business partner to those we serve. Our business is helping our clients to safely and sustainably find, drill, complete, and produce oil and gas fields.

Drilling and Formation Evaluation
We provide formation evaluation services featuring leading-edge expertise with a comprehensive and technologically advanced portfolio. From early well planning to reservoir-management services, including petroleum logging, wellsite geochemistry, logging-while-drilling (LWD), and wireline, our suite of formation evaluation services has broad applications across all types of reservoirs. We have strategically integrated tools, technologies, systems, and talent focused on unlocking the potential of unconventional resources.

Well Construction
In complex drilling environments, our focus is on helping clients improve well integrity throughout the full life cycle of the well. We provide reliable casing and tubing strings, cement design, liner-top isolation, and methods that help you reach total depth in the optimal condition. Our well construction portfolio accommodates a wide range of operating scenarios to enhance process safety, minimize nonproductive time, and increase reservoir deliverability.

Completion and Stimulation
We provide a complete range of products and services for onshore and offshore markets, from unconventional reservoirs onshore to deepwater critical-service completions. Our expert advice on completion design and engineering ensures process integrity and flow for the life of the field. Our cementing and stimulation packages ensure wellbore integrity and the safe, effective stimulation needed to access and recover critical reserves.

Production
Our extensive suite of production optimization products and services boost field productivity and profitability. We have the most comprehensive artificial-lift portfolio in the industry. We provide reliable in-well measurements of pressure, temperature, seismic, vibration, and production flow rates. We also offer industry-leading production workflow and optimization software.
Supplier Directory Categories
Weatherford International, Inc. is listed in these categories: