About
Hines Industries is a world leader in balancing equipment, design innovation and manufacturing process improvement. Our balancing equipment can be found around the globe at major industrial manufacturers and in the machine shops of high performance racing greats.

Hines offers leading edge vertical and horizontal, static (non-rotating) and dynamic (rotating), balancing machines with multi-plane correction, and manual to assembly line-ready balancing processes. New, refurbished, and used balancing equipment is available. Services include manufacturing improvement analysis, balancing services, training, machine calibration and repair.

Other Hines products include rebuilding equipment, mass centering machines, moment weighing equipment, CNC machine center balancers, straightening presses, lathes, scales, tooling, and replacement sensors. All Hines balancing machines are hard bearing for permanent calibration.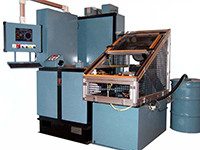 Hines Industries holds an impressive client list across the industries it serves. Hines balancing equipment can be found at the manufacturing plants of the major domestic and international automakers, automotive component companies, aftermarket businesses (driveshaft, crankshaft, brakes, tires, etc.), aerospace companies (jet engine turbines), ag equipment industry leaders, military installations, and in the shops of auto industry racing greats.
Countless other industrial facilities also rely on Hines balancers in production and rebuilding processes. For example Hines machines exist in over 100 pump impeller manufacturing and rebuilding plants world-wide. And Hines holds numerous patents demonstrating its leadership in the balancing industry.
Supplier Directory Categories
Hines Industries, Inc. is listed in these categories: