About
Since 1977, Pflow has been devoted to the design and manufacture of safe, vertical material handling equipment. They were instrumental in creating the vertical conveyor market and have led the industry from the start. And, with over 10,000 installations, Pflow has developed a leadership that is unmatched. From simple, two-level vertical lifts to multi-level, multi-directional automated lifting systems. Nobody can match Pflow's level of experience, engineering know-how and customer support. Nobody knows vertical lifting better than Pflow.
Pflow Industries, Inc. is headquartered in Milwaukee, Wisconsin. Company facilities include over 100,000 sq. ft. of manufacturing space and a complete research & development center. Pflow offers total engineering, fabrication, and coast-to-coast installation services. Over 35% of Pflow personnel are engineers or R&D people - more than any other Vertical Lift manufacturer.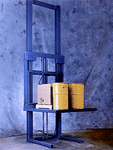 Pflow is the world's largest provider of:

Vertical Conveyors
Custom Material Lifts
Continuous Conveyors
Mechanical Lifts
Freight Lifts

Vertical Lifts
Continuous Lifts
Freight Elevators
Hydraulic Lifts
Custom Conveyor Systems
Pflow is a member of the following Associations: Conveyor Equipment Manufacturer's Association (CEMA), Materical Handling Equipment Distributors Association (MHEDA), National Association of Elevator Contractors (NAEC), Material Handling Institute of America (MHI).
Supplier Directory Categories
Pflow Industries, Inc. is listed in these categories: