About
Autoquip Corporation was founded in 1947 in Chicago, Illinois. And in 1974, we relocated to our current location: a 175,000-square-foot manufacturing facility in Guthrie, Oklahoma.
As a leader in the material handling industry, we hold ourselves to an unmatched standard of quality, reliability, and customer service.
QUALITY MANUFACTURING
Our operation consists of a largely systems-driven manufacturing process that includes precision automated cutting and boring machines. We also depend on our skilled lift craftsmen, a full quality assurance program, and mechanical, hydraulic, and electrical engineers who cater to customer needs and design each lift using the latest software and manufacturing techniques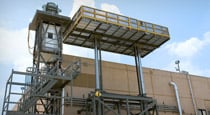 .
STATE-OF-THE-ART ENGINEERING
Autoquip continues to make a commitment to providing our customers with full engineering capability and support. With a staff of degreed mechanical, hydraulic, and electrical engineers supported by state-of-the-art design and manufacturing software, Autoquip has built an engineering organization capable of achieving our customers' every design need.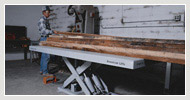 EXCEPTIONAL CUSTOMER SERVICE
Quality point of sale and exceptional product support are among our most important guiding principles. Our sales and service departments are uniquely qualified to understand both the material handling industry and individual customer needs, and apply their knowledge when providing customers with a positive Autoquip experience.
MADE IN THE U.S.A.
We pride ourselves in offering products made exclusively in the U.S.A. Because our lifts are produced in America, we're able to provide reliable products, better value, more flexibility in product offerings, and highly responsive customer service. We refuse to compromise these values, and because of that, we will remain firmly planted in America's heartland.
AMERICAN LIFT
In 2009, Autoquip purchased American Lift from Columbus McKinnon Corporation. American brings a premium quality product design to the Autoquip range of products. In buying American Lifts, Autoquip committed to providing all of American lifts and parts, and to greatly improve on-time delivery and quality. Today we have achieved this goal and have expanded our American Lift customer base.
Supplier Directory Categories
Autoquip Corporation is also listed in these categories:
Technical Articles


Case Study: High Capacity Paper Roll Lift
(Material Handling Equipment)
The Challenge: A method of moving up to six (6) rolls of paper between the production floor and the storage level above, each roll weighing approximately 5,500 pounds. Also, on occasion, they wanted... (
View Full Article
)