About
The line of gearmotors and reducers is an example of advanced technology brought to industry by Brother. The GTR Series of gearmotors was designed in response to industrial demand for smaller, lighter, more reliable, and energy efficient power transmission. Our energy efficient High Ratio Hypoid right-angle gearing, CBN grinding process, and quality aluminum die cast housings are examples of superior technology brought to you by Brother.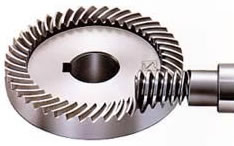 Manufactured using the best machinery available in the World, Brother gears are processed on equipment by Gleason Pfauter, Mikron, Reishauer, Kashifuji, Koyo-Lindberg, and Zeiss. The quality equipment, fifty plus years of experience in gear manufacturing, combined with our commitment to advanced technology, make Brother second to none in gear and gearmotor manufacturing technology. We invite you to challenge us with your power transmission needs. The Brother line of gearmotors offer more voltage choices, a wider range of mounting configurations and greater efficiency (for smaller drive packages). With Brother Gearmotors, you can design a more efficient machine at a lower overall cost.
Our Helical and Hypoid gearmotors feature:
Steel carbonitrided and die quenched gears which translates into longer life.
A selection of 1/50 HP to 3 HP.
9 voltage choices in 50hz or 60hz.
28 ratio choices.
Flexibility in mounting styles-with over 10 mounting configurations- helical in-line and hypoid right-angle.
Hypoid gearing in our right-angle units is the same gearing used in an automobile differential- which allows Brother Gearmotors to boast the most efficient and durable right-angle package commercially available!
European and other worldwide voltages are available.
Lubricated for life with high grade synthetic grease and sealed with machine slip fit "O" rings eliminating costly downtime for lubrication changes!
Two Year Warranty!
Design your machine around your goals, not your gearmotor.
Brother Gearmotors - your options are standard.
Supplier Directory Categories
Technical Articles