About

Conesys/Aero-Electric Connector is a first-rate designer and cost competitive manufacturer of high performance environmental and firewall-rated cylindrical connectors machined from aluminum, carbon steel, stainless steel, and aluminum nickel bronze. Conesys/J-Tech specializes in front and rear release 5015 connectors as well as customer- specific applications for customized connectors and fiber optic assemblies. Conesys/EMP Connectors designs and manufactures EMI filter and EMP transient suppression devices. Conesys Europe markets and assembles product for Aero-Electric, J-Tech and EMP. Conesys/Aero Industrial Products sells and manufactures connectors and cable assemblies intended for the industrial marketplace.

Markets
Conesys/Aero-Electric connectors are widely used in all types of applications spanning markets such as: Military/Aerospace, Commercial Aviation, Business Aviation, Aircraft Engines, Marine Applications, Heavy Equipment, Rail Mass Transit, Geophysical, Machine Automation/Motion Control, Medical Equipment, General Industrial and Telecommunications.

Excellence
Conesys' manufacturing process is vertically integrated, ISO 9001:2008 and AS9100, Rev. B certified and most importantly focused on continuous improvement through prevention of defects and reduction in variation and waste.

Quality Policy
"We are committed to Customer Satisfaction by meeting Quality and Delivery requirements while continuously measuring and improving our processes."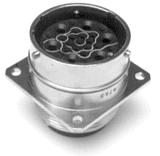 With roots dating back to 1983, Conesys is ISO 9001 and AS 9100:A certified, vertically integrated provider of circular and rectangular connectors, filter and transient protection connectors, and copper and fiber interconnect systems to a wide range of industrial, commercial and general aviation, transportation and military customers. Their mission is to be a world-class supplier of electronic connector products through customer satisfaction and leading-edge technology.
Manufacturing and assembly facilities in Torrance and Santa Ana, California, along with Mount Clemens, Michigan, serve the needs of customers throughout the Americas and Asia. Conesys Europe located in Toulouse, France, focuses on serving customers in Europe, Africa and Middle East and demonstrates our commitment to being a global organization.
Conesys combines excellent financial strength with the flexibility and responsiveness of an entrepreneurial firm to supply our valued customers quality products, cost-effectively and on-time, while meeting a full range of requirements from standard applications to customized solutions.
Supplier Directory Categories
Technical Articles