About
Founded in 1995, STACI Corporation provides custom-designed manufacturing and supply chain solutions to its customers all over the world. Since its inception, STACI has become a rapidly growing worldwide provider of solutions in three principal areas – Printed Circuit Boards, Electro- Mechanical Components and Electronic Manufacturing Services.
Headquartered in the United States, STACI utilizes the resources of low-cost countries like China to provide globally competitive solutions to meet its customers' needs. The Joint Venture Partnerships that STACI has established and cultivated over the years enable the company to provide its customers with a fast and low risk path to the benefits of low-cost country manufacturing over a broad spectrum of products and services. To provide top-notch customer service to its global customers, STACI has sales, customer service and administrative offices in the United States, China and Europe.

Electronics Manufacturing Services
Printed Circuit Boards
- Single-Sided, Double-Sided and Multi-Layer
- Rigid, Flexible, and Flex-rigid
- Backplanes
Membrane Switches
Rubber Keypads
Sheet Metal
Stamped and Extruded Heat Sinks
Injection Molded Plastics
Other Custom Electrical and Electro-Mechanical Products, such as Touch screens, LCDs, Labels and Name plates.

As a leading manufacturing and supply chain solutions provider, STACI offers its customers numerous advantages, including:
Strong design and customer support resources located close to our customers in the United States and Europe
Equity ownership and/or Joint Venture Partnerships with all of STACI's offshore manufacturing facilities
Low risk and proven path to the benefits of low-cost country manufacturing
Single source accountability and management for a variety of complementary products and services that allow STACI's customers to be more efficient in supplier management and related areas
Electronic Manufacturing Services (EMS) capabilities located in both the United States and Asia to service all volume and turn-around needs
Domestic warehousing
24/7 service and attitude
Complete supply chain solutions provider
Emphasis on strong, long-term customer relationships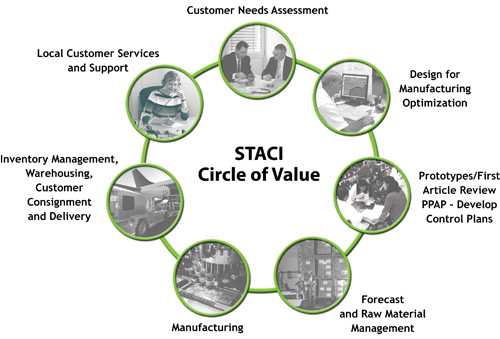 "Our Goal Is To Exceed Customers' Expectations From Design To Delivery."

Dennis Docherty,
President and Chief Executive Officer
Supplier Directory Categories
Vexos is also listed in these categories: