About








Airgas. You'll find it with us.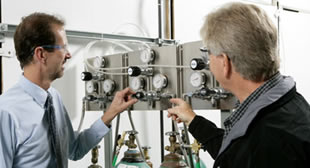 Airgas, Inc. (NYSE: ARG), through its subsidiaries, is one of the nation's leading suppliers of industrial, medical and specialty gases, and hardgoods, such as welding equipment and related products. Airgas is a leading U.S. producer of atmospheric gases with 16 air separation plants, a leading producer of carbon dioxide, dry ice, and nitrous oxide, one of the largest U.S. suppliers of safety products, and a leading U.S. supplier of refrigerants, ammonia products, and process chemicals.

More than 15,000 associates work in approximately 1,100 locations, including branches, retail stores, gas fill plants, specialty gas labs, production facilities, and distribution centers. Airgas also markets its products and services through e-Business, catalog, and telesales channels. Its national scale and strong local presence offer a competitive edge to its diversified customer base.
Supplier Directory Categories
Airgas, Inc. is listed in these categories: