About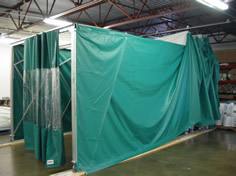 Robert Soper Limited (Soper's) is a leading turnkey manufacturer and supplier of Softwall enclosures, partitions and curtain systems designed to control dust and fumes, noise, temperature, cross-contamination and odor, welding flash, and overspray. Our Softwall products are used in a wide range of industries including manufacturing, food, warehousing, aerospace and mining across North America.
Serving the Canadian and U.S. markets, Soper's runs a growing agent and distribution network. The company also embraces creative alliances to market its broad product mix across North America and the world. Soper Fabric Products (SFP), a subsidiary of Soper's, is a leading provider of architectural tensile fabric structures to the global design community.
Located in Hamilton, Ontario, Soper's 40,000 square foot manufacturing facility features three FIAB welders: one with a 160 feet travelling head, one with a 30 feet travelling head, and the other portable – allowing us to fabricate the smallest of tension canopies and the largest of air-inflated structures. Plus, Soper's employs a PTFE sealer for use with architectural fabrics.
In addition to welding operations, Soper's employs modern cutting and sewing practices, allowing us to provide produce a cutting-edge, dynamic finished product. Our expansive floor space offers ample room to manufacture large membranes.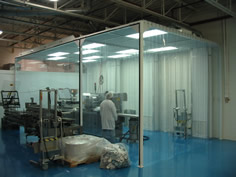 Soper's is a family-owned company with traditional business values and ethics. The company has been owned and managed by the Gallagher family for three generations. Our employees are the backbone of our business. From the plant floor to senior management, Soper's maintains a customer-focused environment where you, the client, are number one.
Equally impressive as our 135 year history is our reputation with past customers. One of Soper's primary strengths is the fundamental understanding that we work for the customer. We understand the concept of a team effort. Our main objective is to achieve the proper balance between the benefits our Softwall solutions offer and the cost restraints of the real world. We are not satisfied with a project unless the customer is.
Why Use Softwall?
You have an in-plant environmental problem - dust, fumes, noise, temperature, cross-contamination, odor, overspray, etc. You've considered hiring a contractor to build a traditional drywall, concrete block, or metal clad partition or enclosure. But, have you thought of installing a Soper's Softwall partition or enclosure? Consider the following advantages of Soper's Softwall alternative to traditional rigid wall construction …
Traditional Walls vs. Soper's Softwall
| | | |
| --- | --- | --- |
| | Traditional Walls (Concrete, Metal Cladding, Drywall) | Soper's Softwall Partitions & Enclosures |
| Cost | Traditional rigid wall construction can cost anywhere from $8 to $35 per square foot. | Soper's Softwall systems cost a fraction of what it cost to build a traditional rigid wall, leaving extra money in the budget for other concerns. Don't forget about low future modification costs, as well. |
| Flexibility | Difficult to modify or move. | Soper's Softwall partitions and enclosures can be easily disassembled and reinstalled or reconfigured elsewhere to accommodate new requirements. |
| Installation | Installing a rigid wall can be expensive, messy, and time consuming. | Soper's Softwall partitions and enclosures can be installed with little or often no downtime, meaning minimal interruption to production. Plus, there is no mess and aggravation typically associated with rigid wall installs. |
| Lead Time | Traditional rigid wall construction usually has a lengthy lead time. | Soper's Softwall systems can be designed, manufactured, and installed within days. |
Supplier Directory Categories
Soper's Engineered Fabric Solutions is listed in these categories: