About

Suntsu's sales headquarters are located in the heart of Orange County, California, with additional facilities located in Japan, Korea, and China. Suntsu is equipped to handle the needs of today's most stringent frequency control requirements to the most basic. They are a reliable source for standard crystal and oscillator products; and their focus for the new millennium is to become a top tier provider of TCXO and (VC)TCXO technology in low volume packaging for the mobile communications industry. They have also made significant advancements in their ultra-miniature crystal line, which are the smallest in the industry to date.

The design staff at Suntsu employs a passionate approach to the research and development of new frequency control products resulting in innovative technology. Innovation is the design staff's philosophy and they are encouraged to communicate new ideas to promote the success of your company and the reliability of their products. Custom configurations are encouraged and they will do their best to support your unique needs.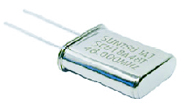 Suntsu Frequency Control, Inc. is certified to ISO 9001: 2000 standards (CERT-06045-2003-AQ-HOU-RAB) with Det Norske Veritas. The quality staff controls their complete system ranging from documentation, inspection of materials, process control and evaluation of finished products. This system allows them to provide products that exceed your requirements at a lower cost than their competition. At Suntsu, management within the quality staff makes every effort to update their processes and equipment in order to stay at the forefront of new methods and technology.

They have designed an aggressive business plan with executive commitment to supply you with a wide array of frequency control products. Suntsu is dedicated to building a long-term relationship with you by providing the right products at the right prices. With customer advocacy on their side, they expect to accomplish stable growth in their market.

Suntsu's experienced sales staff is trained to assist you from the prototype stages of your product on through full-scale production. They pride themselves on providing you with the most up-to-date information in the shortest amount of time. They recognize the importance of time to market for emerging technologies and have developed internal infrastructure to meet your demands.

In today's economy where timing is everything, technology companies need a supplier that provides quality products, competitive pricing and dependable deliveries. Suntsu is committed to being your supplier.
Supplier Directory Categories
Suntsu Frequency Control, Inc. is listed in these categories: