About
| | | | | |
| --- | --- | --- | --- | --- |
| | | | | |
| Waterjet Cutting Pumps | Waterjet Cutting Nozzles | Waterjet Abrasive Systems | Waterjet Cutting Parts | Waterjet Cutting PSC Parts |
KMT Waterjet Systems is the leading global manufacturer of waterjet cutting systems, Ultra High Pressure pumps and components for water jet systems. KMT's product offerings include: UHP Pumps, Waterjet cutting nozzles, Focusing Tubes, Pneumatic Cutting Valves, Intensifier and High pressure parts, Abrasive Cutting Systems, Waterjet Spare Parts, High pressure Valves, Fittings and Tubing Products, Diamond Orifices, Sapphire Orifices, Ruby Orifices, and Robotic applications.
KMT Waterjet Customer Service bases success upon customer satisfaction. They want the process of ordering replacement parts and gaining knowledge about waterjet to be consistently easy and enjoyable. Their highly skilled and trained staff will answer questions and concerns. You will truly experience the family atmosphere that they endorse at KMT Waterjet Systems and understand why they value every encounter with you.
KMT Waterjet Systems are used in a wide variety of industries including automotive, military, aerospace, tile, stone, food, textiles, rubber, foam, glass and much more.

Streamline PRO® 60 & PRO 125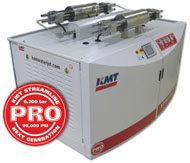 KMT Waterjet Systems Inc. introduces the Next Generation of waterjet pumps, an ultra high pressure (UHP) 90,000 PSI/6.200 bar pump available in 60hp & 125hp. The KMT Streamline PRO® 125 pump uses the largest orifice in the waterjet cutting industry and is the solution for manufacturers requiring maximum performance and exceptional value!
Increase Speed, Increase Productivity!
With waterjet pressure up to 90,000 PSI/6.200 bar, the advanced KMT Streamline PRO® pump delivers the manufacturer a reduction in operating costs by cutting products in less time than conventional waterjet systems. When compared with 60,000 PSI cutting speeds, the new PROline pump will significantly increase cutting productivity.
KMT Waterjet Cutting Nozzles

KMT Waterjet Systems, the global leader in waterjet technology, manufactures the most efficient water jet cutting nozzles on the market.

Water jet cutting applications are broken down into two categories and require a specific cutting nozzle for each: Water-only Pneumatic Valve and Abrasive Nozzle.

Water-only cutting applications are found in the food industry (vegetables, frozen foods) rubber, soft composites, textile, fabric, paper, foam, leather, and much more.

Abrasive waterjet using the KMT Autoline II or KMT IDE cutting nozzles are for applications which include titanium, steel, glass, tile, brass, aluminum, and stone cutting, as well as many other materials.
Supplier Directory Categories
KMT Waterjet Systems is also listed in these categories: