About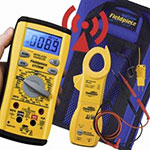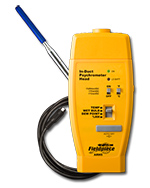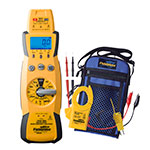 Fieldpiece Instruments designs hand-held test instruments exclusively for HVACR professionals. Fieldpiece pioneered modular expandability, a concept where a single meter uses multiple slide-on accessory heads to test most parameters HVACR technicians use everyday. Today, Fieldpiece makes a wide range of instruments for HVACR pros from scales and manifolds, to system analyzers and detectors, and everything in-between. Backed by world-class customer service, distributors and HVACR technicians alike know that whether they need technical assistance, warranty questions, or just need advice on what instruments best fit their needs, a trained Fieldpiece representative is just a phone call away.
From the humble beginnings in the founder's garage in 1990, to the international powerhouse Fieldpiece is today, the mission at Fieldpiece has remained the same. To provide instruments that HVACR professionals can trust to help them do more. Everyday. We do that by constantly listening to the pros in the field, and then creating tools that solve their problems. More than 25% of the Fieldpiece crew are dedicated to engineering and product development, and more than half of the staff are certified HVACR technicians. We ride along with, and help train, HVACR professionals all over the country, and now, all over the world. This helps us continually improve our products and design innovative instruments HVACR professionals need to make their jobs easier, faster, safer and more complete.
Fieldpiece was founded on the idea of digital multimeters that were expandable through accessory heads for additional testing with one instrument. Today, Fieldpiece is the HVACR instrument manufacturer that technicians turn to for meters, air flow, manifold, leak detectors, combustion, scales, A/C analysis and more. We are strictly dedicated to the HVACR field — creating products packed with measurements that HVACR pros need to get their job done like superheat and subcooling, target superheat, Delta-T, relative humidity, leak detection, air flow, and so on.
Our latest wireless products create a system where HVACR pros can do a full system analysis, with live dynamic readings, from just one spot on the job site. From evaporator readings to condenser measurements, and everything inbetween, every piece of information a tech needs is right in the palm of their hand.
Products
Charging and A/C Analysis
Meters
Gas and Leak Detectors
Wireless Measurements
Temperature/RH
Air Flow
Combustion
Pocket Tools
Leads
Cases
Handles and Adapters
Replacement Parts, Batteries, Fuses
Supplier Directory Categories
Fieldpiece Instruments, Inc. is listed in these categories: