About
| | | |
| --- | --- | --- |
| Spectroscopy | Cell Culture/Analysis | Custom Products |
| Standard and Customized Products work with single sample spectrometer and fluorometer or lay flat for viewing under a microscope. Products for micro volume fluorescence or transmission measurements in short path cuvettes. | Customized products for mammalian, stem cell, or suspended cell culture. Enclosed chambers, no contamination, interfaces with microscope, with a breathable membrane, use in standard incubator. | Custom bio-compatible materials for microfluidic POC and Clinical Diagnostics disposables. Spaceflight proven fabrication technology for rapid prototyping and volume manufacture to 500,000/year. |
ALine has developed a fabrication method for rapid prototyping and volume manufacture of microfluidic Lab-on-a-chip devices for applications in cell culture, medical diagnostics, and laboratory research. They can provide what injection molding and embossing cannot, enclosed channels and complex 3D structures in a biocompatible plastic device. Further, their ability to use a variety of materials, including porous membranes, flexible valves, recirculating pumps, and electrodes means they provide device developers with more functionality at a lower development cost. Their experience with bio-compatible materials and their proven success with NASA in the development of a robust, functional fluidic system for autonomous cell culture in space, demonstrate their ability to deliver the right solution at the right time, no excuses.
ALine's goal is to provide molecular diagnostic product developers, researchers, and cell biologists, biocompatible, high quality tools to take their research or product to the next level by implementing the advantages of microfluidics in a user-friendly, cost effective format. The company's attention to quality and their ability to manufacture in volume is demonstrated by their family of products for spectroscopy; the FluoroVette™, a microvolume, UV transparent cuvette for fluorescence of precious protein samples, and the SpecVette™, a short pathlength cuvette for measurement of opaque samples, where dilution would alter the absorption spectrum. All these products are available in two formats:
Pipette interface for 50 µL samples using a pipetter
Flowcell format for continuous monitoring
Custom modifications of the FluoroVette™ with porous membranes have also provided an alternate platform for researchers to develop bead-based displacement assays in a convenient format that interfaces with most standard research-grade fluorimeters.
Contact ALine, Inc. and learn how they can provide you a cost effective, functional device to support your development needs.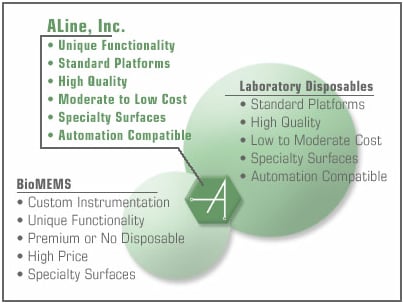 Supplier Directory Categories
ALine, Inc. is also listed in these categories:
Technical Articles


Valves in Microfluidic Cartridges
(Valves)
On-board pneumatically controlled valves have all the air control lines bused to one edge of the card, and interface through a gasket to a manifold. This makes it simple to create a cartridge carrier... (
View Full Article
)