About
SIMTEC is a research and technology driven company. Since our establishment in 2002 in Madison, Wisconsin, we are continuously developing Extraordinary Solutions™ for leading industries worldwide with services ranging from prototyping to full production of high precision Liquid Silicone Rubber (LSR), and overmolded and Two Shot (LSR/Thermoplastics) components. Among our many collaborative efforts, SIMTEC maintains a close research relationship with the Polymer Engineering Center at the University of Wisconsin-Madison.
SIMTEC is one of the first companies outside of Europe, the originator of the Liquid Silicone Rubber (LSR) technology, that is currently manufacturing Two Shot (LSR/Thermoplastics) applications employing the first, and so far the only, production units of their kind in the world.

SIMTEC's goal is to add value by offering a superior level of service to our customers through the unparalleled experience of our team and to provide the best possible innovative technical solutions.

SIMTEC's engineering services include, but are not limited to: material selection, design advice, prototyping, and full production. Through the optimization of part design and our outstanding supply chain management, short concept-to-delivery times are achieved.

Unparalleled Products: Our exclusive focus and core competence is the production of Liquid Silicone Rubber (LSR) and Two Shot (LSR/Thermoplastics) components, applying advanced technology in materials, processes and systems.

Unparalleled Service: We deliver what you need, when you need it. You get full support during the design and prototyping phase of your program and 100% on-time delivery with 100% satisfaction – from start to finish.
Total Customer Satisfaction: Your satisfaction is vital to us. By working closely as a team with you, raw material suppliers and mold makers, we continuously develop innovative and unique technical solutions to ensure the most cost efficient production. Absolute confidentiality is assured.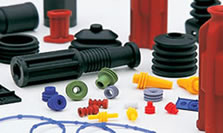 Clean Room Production and Post Curing Capabilities: Depending on your needs, parts are made in a clean room environment and post cured.

Liquid Silicone Rubber (LSR) and Two Shot (LSR/Thermoplastics) components are currently being employed in many different industries. However, the potential for additional applications is unlimited: hypoallergenic properties and high purity make it ideal for medical applications; FDA compliant grades are also suitable for the food and cosmetics industry; low compression set, high temperature range and chemical resistance makes LSR the ideal choice for many applications.
Supplier Directory Categories
Technical Articles