About
Mantracourt was founded in 1974 with the clear objective of becoming a leader in the application of microelectronics to industrial measurement applications.
The company's wide range of products perform a variety of precision measurement functions for load and weight, strain and pressure, force and torque, temperature, flow and speed. Measurements can be analog or digital and provide a variety of data acquisition capabilities with a wide variety of outputs from USB, RS232, R2485, CANopen and wireless.
Company Expertise:
Expertise in strain gauge signal processing
High performance (24-bit, 5 kHz) analog to digital converters
Wireless radio telemetry with low power consumption and 120m (393ft) range
Fieldbus options including CANopen, Ethernet and Modbus
Core Strengths:
In-house design and manufacture for flexibility and short delivery times
Customer design services for specific projects
Surface Mount Technology for miniature product assembly
Stocked standard product range
Industries Served:
Mantracourt's electronics are supplied to a wide range of industries requiring precision measurement. Key industries include:
Automotive
Construction & Civil Engineering
Process Industries
Lifting and Handling
Silo & Industrial Weighing
Test & Measurement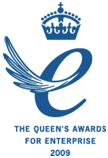 Mantracourt has been awarded the Queen's Award for Enterprise 2009, an award which is regarded in the UK as the highest accolade a business can receive. The award was received in the category of International Trade and goes to endorse the standard of quality, performance and innovation Mantracourt's customers can expect to receive.
Constant Progress:
Mantracourt is constantly updating their product range to use the latest components and the latest technologies, so please register at their website to receive their regularly e-newsletter delivered direct to your inbox. They may already be working on a solution that could fit your needs.
Supplier Directory Categories
Mantracourt Electronics Ltd. is listed in these categories:
Technical Articles


Wireless Bridge Surveying via GPRS
(Sensor Transmitters)
Many logging applications are in remote sites with no available internet or long range transmission options available. GPRS offers world-wide accessibility to data. A civil engineering company wanted... (
View Full Article
)