About
Bee Cool Mfg is devoted to producing the least expensive can crusher on the market. It is their goal that all recycling centers, auto body shops, restaurants, etc., can attain one.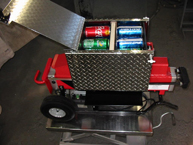 The Least Expensive On Market! Save Thousands of Dollars a Year on Waste/Garbage
Commercial Unit with Heavy Duty Steel Construction. 4 Ton Crushing Power.
Their can crusher is portable, weighing in at little over 135 pounds making it very attractive.
Only 3 Feet long, 2 1/2 Feet High and 16 inches Wide.
Protective Spring Loaded doors For Protection.
Can Crusher, Table Top Version With Wheels For Mobility.
Crusher Potential:
Waste Management, Reduces Trash and Recycling! Their "Electric Can Crusher", Will Clean up Beer cans, Soda Cans, Frees Space up from Clutter! Crushes 5 Gal. Cans to 1/6 Original Size! (Crush cans up to 14 3/8" long) Crushes 1 Gal. Cans to 1/6 (1 1/4" inch) Original Size! Crush Several Beer And Soda Cans At A Time (crush to less than 1/4 inch thick) !!!! Only $1,550.00 US.
Applications:
Restaurants, State And Federal Facilities (Cafeterias), Hospitals, Healthcare Facilities, Daycares (Cafeterias), Schools and Universities, Auto Body Shops, Painting Contractors, Cleaning Companies, Manufactures, Plating Shops, Recycle Centers

Little Squeeze Can Crusher
Little Squeeze Can Crusher will crush up to 5 gallon cans with electric hydraulic for waste management, very affordable and also portable, for table top, used by restaurants, dining facilities, MFG, auto body and painting contractors.
View Video
Supplier Directory Categories
Bee Cool Mfg. is listed in these categories: