About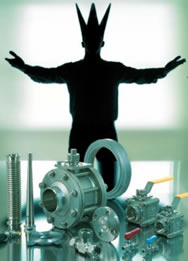 Tantaline is the world's leading producer of tantalum surface alloys for process engineering equipment in hot acid environments. Through our innovative tantalum vapor technology, we deliver the most corrosion resistant material commercially available today through the use of tantalum, one of the most corrosion resistant metals.
Many process engineers are faced today with material challenges that not only compromise their project goals, performance and budget but also their safety. To help combat this issue, Tantaline entered the market with the tantalum surface alloy technology.
With our Tantaline technology, we create tantalum surface alloys on almost any leading OEM part (standard steel valves, fittings, instrumentation, heat exchangers etc.). It's not a coating. It's not a spray. The tantalum vapor creates an alloy bond on the part's surface, becoming a true surface alloy. The result is an entirely new product that is extremely rugged and durable, maintains the original OEM part's size and shape, and has the same chemical properties and corrosion resistance as a pure tantalum part – at a fraction of its cost.
With superior corrosion performance and affordability compared to nickel alloys, titanium and zirconium metals, Tantaline helps engineers and businesses ranging from global manufacturers to laboratories to reduce costs, increase productivity and improve safety. We currently serve all types of industries, including chemical processing, mining, oil and gas, energy and pharmaceuticals.
Supplier Directory Categories
Tantaline is listed in these categories:
Technical Articles