About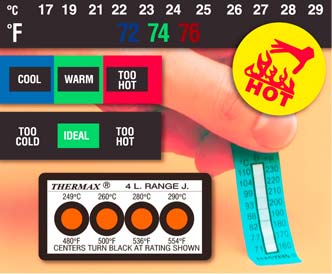 Hallcrest is a family owned pioneer in the development and manufacturing of temperature sensitive, color changing graphic technology known as thermographics.
Hallcrest's core thermographic technologies include: Irreversible labels that trigger and change color at a set temperature point creating a permanent record that temperature has been exceeded, Liquid Crystals that can be accurately set to continuously show color at designated temperatures +/- 1°F and Leuco Dye inks and pigments that can be formulated to turn from color to clear either reversibly or irreversibly. Each technology offers unique capability but together the entire visible spectrum of color is covered within a temperature range of -22°F (-30°C) to 2300ºF (1,260ºC).
Hallcrest's thermographic products can be found in virtually any industry. Thermax® irreversible labels are used to identify and provide evidence of attained temperature, in various industrial applications. Digitemp® reversible labels provide continuous temperature monitoring with an easy to read digital display. Consumer products utilize Hallcrest Thermochromic Ink and Coatings to communicate proper usage or storage conditions. Feverscan® Forehead thermometers are used to monitor a patient's temperature during surgery and in the immediate recovery period.
Hallcrest's customer centric orientation has demanded that the company operate in a broad range of markets and has created a consultative environment that routinely moves their technology and solutions across industries. Hallcrest has thrived on its ability to take a challenge, requirement or idea, and through creative use and/or expansion of technology, develop a solution.
Hallcrest has an international presence with multiple manufacturing sites in the US and UK, these plants act as centers of excellence and are fully compliant to ISO 13485, CE standards and registered with the FDA.

Supplier Directory Categories

LCR Hallcrest is also listed in these categories:
Technical Articles