About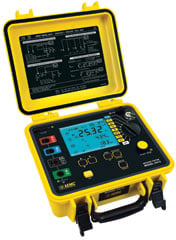 AEMC® Instruments manufactures professional electrical test and measurement instruments for the industrial, commercial and utility marketplace. Excellent customer support and expert technical assistance are their top priority. Founded in 1893, their products are backed by over 100 years of experience in test and measurement equipment, and encompass the latest international standards for quality and safety.

AEMC® is the industry leader in current measurement probes, ground resistance testers and insulation resistance testers. Their full product line also includes clamp-on meters, power quality analyzers, ratiometers, power meters, harmonic power meters, data loggers, lightmeters and numerous other electrical test tools.

Sales and marketing are located in Foxborough, while production, product service and NIST calibration are located in Dover, NH. AEMC® products can be purchased through a worldwide network of distributors. They also offer custom products on an OEM basis.

Supplier Directory Categories
AEMC Instruments is listed in these categories:
Technical Articles


Clamp-On Meters - The New Paradigm
(Meters, Readouts and Indicators)
Within the past few years, there has been an ever-growing shift toward to the use of clamp-on meters. .This shift can be attributed to convergence. Convergence is the bringing together from divergent... (
View Full Article
)