About
| | | |
| --- | --- | --- |
| Device & Component Business | CONTEC Co., Ltd. contributes to regional and global societies using technologies refined with an emphasis on expansion boards, industrial PCs and networking, and by providing 'manufacturing' from the standpoint of customers. | |

CONTEC Co., Ltd. accommodates customer requests with original
technologies that they have developed and improved over the years.
PC-Based Automation Products

Large product line with more than 400 types of products and hundreds of cables/accessories offering compatibility with any type of input/outputsignals and applications.
CONTEC Co., Ltd. provides a wide variety of interface boards, USB units, bus expansion systems, wire-saving devices, and test/measurement system controllers. These products contribute to the realization of easy-to-use, flexible, high-performance and low-cost automated systems.



Industrial PCs and Related Products
Enabling the reduction of CO2 by saving electrical power and downsizing devices via small footprint design.
Contec provides highly reliable, high-quality industrial PCs and peripheral devices with long-term supply guarantees. Their product line offers optimal models for various purposes including embedded systems of industrial facilities and equipment, test and measurement equipment, digital signage products and information kiosk terminals.



Networking and Related Products
Original encryption technology developed in-house and assured communications

In this field, Contec provides original wireless LAN devices developed on their own, which are intended for office, industrial and embedded system applications. They not only meet technical standards but also enhance security and management functions via in-house development, further expanding their lineup to products such as Ethernet-based image distribution units and position detecting systems.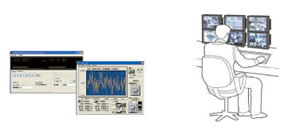 Software and Related Products
Supporting wide-ranging development from BIOS to applications
Contec supports customers at a variety of levels by providing middleware to facilitate the establishment of their systems and application software to immediately realize their purposes, as well as driver software to maximize hardware capabilities.
Supplier Directory Categories
CONTEC Co., Ltd. is listed in these categories:
Technical Articles

Analog I/O Basic Knowledge
(Data Acquisition)
Basic knowledge and glossary terms related to analog I/O, A/D conversion, and D/A conversion in an easy-to-understand way that includes illustrations. (
View Full Article
)