About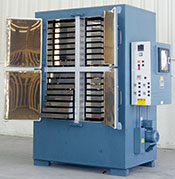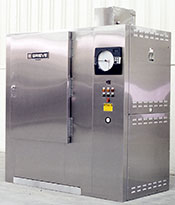 Grieve's only business since 1949 has been to design and manufacture industrial ovens and furnaces. At Grieve, you'll find quality at each and every step of the design and manufacturing process. With CAD/CAM/CAE design equipment and ever-improving manufacturing procedures, we make the very best ovens and furnaces possible. Since we are the manfacturer, all our industrial ovens and furnaces are given a thorough in-house performance inspection prior to shipping. The Grieve oven or furnace you receive at your facility will be fully tested. From complete paint coverage to gasket fit, door hinge alignment, wire bundling neatness, shelf and accessory item counting, every aspect of a Grieve product is carefully checked by a member of our company's management before the unit is crated for shipment.
Our ovens and furnaces come in a variety of styles including bench ovens, box furnaces and conveyor belt ovens. In addition, our ovens can be used for powder coating, curing, baking, drying, preheating, and other applications requiring circulation of heated air. Batch style paint baking ovens or drying ovens come in a variety of forms. Top loading ovens are convenient for overhead crane type loading. Drawer ovens allow loading and unloading of oven without a lot of heat loss. Truck and walk-in ovens are suitable for loading with a forklift or with trucks. Class 100 clean room ovens maintain a clean enviorment and inert atmosphere ovens provide a protective atmosphere while heating. Continuous ovens, whether they are a belt conveyor oven, a vertical tray oven, or a tunnel oven make moving large quantities of parts on and off assembly lines more efficient than batch ovens.
Perhaps you have a specific heat processing problem that just can't be solved by one of our "off the shelf" designs. Grieve offers complete custom design and manufacturing services. We have the experience necessary to meet your particular requirements. At Grieve, we are more than a manufacturer. We are problem solving professionals who take the time to understand your requirements.
Supplier Directory Categories
Grieve Corporation (The) is listed in these categories: