About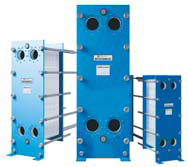 Tranter, Inc. strives to be the leader in the markets it serves by applying a simple philosophy: perceiving the customer's real needs; investing to maintain a competitive edge; and asking customers to pay a fair price for the extra value added. From a position of strength as an industry leader on the North American continent for over 70 years, Tranter has introduced advanced manufacturing procedures into its plants in the US, Sweden, India, and China and has made a dramatic commitment to global expansion, diversification and leadership in plate-type heat exchanger technology.
Tranter's line of versatile SUPERCHANGER® - Tranter's plate and frame exchangers - offers the broadest selection of plate designs and sizes in the PHE market. Customers can choose between the herringbone- and washboard-styles of plates with fully glued or CLIP-ON gaskets, or the ULTRA-FLEX® designs with asymmetrical flow channels where six different flow channel configurations are possible with each plate size. A broader selection means a better match to a customer's requirements, thus lower costs.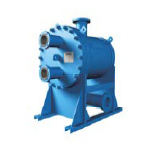 If prime application considerations include versatility of connection locations, space and single-material design, Tranter's MAXCHANGER®, and SUPERMAX® all-welded plate exchangers are extremely efficient. The exchangers can be used in almost any duty where shell and tube units typically cool mechanical and electrical equipment – liquid-to-liquid, steam-to-liquid, gas-to-liquid, gas-to-gas and refrigerant applications (including ammonia). Requirements up to 1000°F operating temperature and 1000 psig working pressure can be accommodated.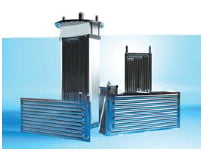 Tranter's line of highly efficient PLATECOIL® prime surface heat exchangers replaces costly, unwieldy pipe coil, steam sparging or expensive resistance heating elements. Tranter's exclusive Multi-Zone configuration – designed to uniformly deliver steam to all levels of the unit through zoned header – and two Serpentine configurations are available in over 300 standard sizes, or can be custom designed. Single- and double-embossed styles may be flat, bent or rolled to be used as immersion heaters, banked for tanks, used as baffles in reactors, cryogenic shrouds, jacketed vessels, clamp-on panels and a wide variety of other configurations. High internal flow velocities of these exchangers provide effective heat transfer rates. For lighter duties or where high surface areas per unit volume ratios are needed, Tranter's ECONOCOIL® prime surface product is also available.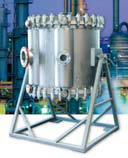 Now available in the Tranter heat exchanger product family is the Spiral Heat Exchanger. These are ideal for applications involving liquids and slurries as well as condensation and evaporation projects. Tranter HES originated from the acquisition of HES Heat Exchanger Systems GmbH in early 2009. Tranter HES is a worldwide operating enterprise with more than 60 years of experience in the design and manufacture of spiral heat exchangers.
Tranter has service centers in Houston, TX, Farmersville, IL, Tulare, CA, and Norfolk, VA USA; in Edmonton, AB in Canada, in Sao Paulo, Brazil; in Stockport, UK; in Hildesheim, Germany; in Monza, Italy, and in Shanghai, China for cleaning, inspection, and replacement of gasket and reconditioning of heat exchanger plates. All their sales companies can also provide local service.
Tranter is ISO 9001 certified, adhering to the highest standards in design, manufacture, and testing of SUPERCHANGER, MAXCHANGER, SUPERMAX, ULTRAMAX, and PLATECOIL and ECONOCOIL plate-type heat exchangers. Tranter is a certified holder of the ASME U-stamp and is a member of HTRI, ARI and ASHRAE.
Supplier Directory Categories
Technical Articles