About
Inductoheat is leading the world in induction heating technologies. Their focus is to provide top-quality induction heating and heat-treating equipment for long-life performance.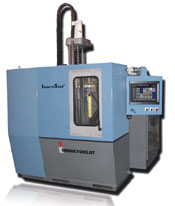 Inductoheat is part of the Inductotherm Group, which brings together forty companies strategically located around the world, all serving the metals and materials industry. With global technical service and support, their engineering excellence has no boundaries.
Inductoheat's Headquarters, located in Madison Heights Michigan, offers full service capabilities similar to a "one-stop" shop. Services include a comprehensive process development and metallurgical laboratory, complete engineering design and induction equipment manufacturing, a large induction coil, build and repair department, customer training, and an aftermarket service and support team. Customers get all the advantages plus flexibility in one company.
Inductoheat designs and manufactures standard, general purpose, and customized, fully automated induction heating systems for: hardening and tempering, billet and bar heating, shrink fitting and stress relieving, copper tube annealing, bonding and brazing, coating and curing and 10" or less strip and slab heating. With the constant evolution of their proven, patented products, Inductoheat will continue to bring the best technology to their customers around the globe.
Please contact an Inductoheat representative to discuss in further detail how their products and services can advance your the capacity and capabilities within your industry.
Click here to learn more about other companies in the Inductotherm Group
Supplier Directory Categories
Inductoheat - An Inductotherm Group Company is listed in these categories:
Technical Articles