About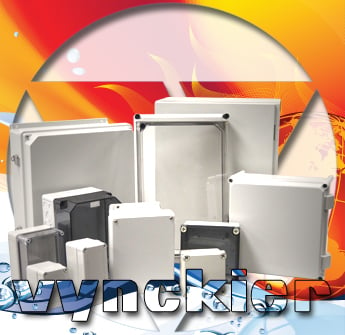 Vynckier Enclosure Systems is an ISO 9001 certified manufacturer of non-metallic enclosures, pedestals, plates & cabinets.

Vynckier enclosures are well suited for a wide variety of applications. If it is important that your electrical/electronic components be protected from environmental factors such as water, wind, dust, chemical etc. then we have a solution for you. Our enclosures are available in a wide variety of sizes and configurations to accommodate nearly every situation.

From small, hand held pushbutton enclosures to large freestanding cabinets, Vynckier Enclosure Systems offers a large variety and inventory of non-metallic NEMA rated enclosures and cabinets.

Vynckier Enclosure Systems sells through a nationwide network of Authorized Manufacturer's Representatives. To find a Rep close to you please CLICK HERE.
To learn more about the benefits and features of FRP enclosures please CLICK HERE.
Supplier Directory Categories
Vynckier Enclosure Systems, Inc. is listed in these categories:
Technical Articles