Modular Self-Centering Encoder - Model 121
Product Announcement from Encoder Products Company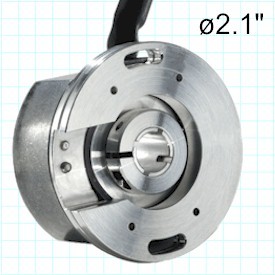 Encoder Products Company (EPC), manufacturer of Accu-Coder™ brand encoders, is pleased to announce a major breakthrough in modular encoders.
Modular encoders have long been favored by motor manufacturers due to their smaller size, and due to the fact that they are more easily incorporated into the basic motor design. However, modulars have historically been plagued by a number of problems: - They are tricky to install; - Installation is not only time consuming, but it also must be performed by trained technicians; - Calibration has been difficult to achieve reliably; and - Modulars have too often proven not to be the most reliable encoder in fielded applications.
EPC's new Model 121 Self-Centering Modular Encoder solves all of these problems, and more, through a new, innovative, patent pending design. The Model 121 requires no calibration, gapping, or special tools to install. In fact, its two step installation (simply tighten the shaft clamp, then install the mounting screws) is the simplest and quickest in the industry. EPC could have stopped there, but it didn't. The Model 121 boasts an all-metal construction that will not warp or deflect (unlike non-metal designs), making it the most durable and reliable modular in the industry. And, as if this were not enough, the Model 121 can also be purchased with up to 12-pole commutation, or with an extended temperature range up to 100 degrees C! All in all, the Model 121 represents the best value in modular encoders available in the industry today.
Every Accu-Coder™ brand encoder is manufactured to EPC's exacting standards, and features EPC's exclusive 3-year standard product warranty, the best in the encoder industry, ensuring you years of trouble free use.
---