Profile Home
Supplier:
Despatch Industries
About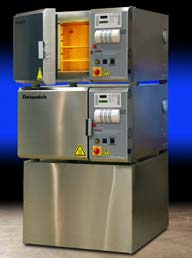 Despatch Industries is the global provider of thermal processing equipment. Over the past 100 years, they have influenced the world's greatest innovations. Their commitment to partnering with their customers to provide custom solutions to their process challenges has remained constant. The philosophy they stand by is to provide process advancements for superior optimization, tighter temperature tolerances, higher yields and consistent, repeatable results. They also go to great lengths to move their products to market faster, providing short lead times and quick delivery.
Today's competitive global market places many demands on their customers. Time and again these companies return to Despatch for creative solutions that offer a competitive edge and drive their business into the future. At Despatch, they are uncompromising in their standards of quality in production. Despatch is ISO 9001 certified and use lean and Six Sigma processes to improve production.
Despatch is the leading supplier of thermal processing solutions to some of the world's most sophisticated industries, including:
Materials: Carbon Fiber, Plastics, Composite Material and Aluminum
Despatch oxidation ovens offer the finest technology available in the world today. These ovens are vital in the production of carbon fiber used in components integrated into airplane bodies for a lighter and more fuel-efficient design. The automotive and aerospace industries rely on Despatch equipment for research and testing and heat treating aluminum components. Polymer products are cured and annealed and a variety of other materials are processed with Despatch technology before being integrated into finished products.
Energy: Solar and Fossil Fuel Exploration
Despatch's pledge to contribute to making the best and most efficient use of all energy resources is apparent in the products that Despatch supplies to companies in the business of energy. The company provides infrared firing and diffusion furnaces to the world's leading solar cell manufacturers so that they can produce the highest efficiency cells. Oil exploration companies test and calibrate their equipment and fuel cell manufacturers cure vital components in Despatch ovens.
Electronics: Semiconductor and Electronic Components
Despatch has been involved in the electronics industry for decades. They have made a recognizable name for themselves in the semiconductor industry. Despatch equipment performs front-end semiconductor functions like wafer-level burn-in and magnetic annealing, as well as assembly/wafer-level packaging functions such as die attach curing, reliability and burn-in testing and thermal shock. Data storage, micro processor and component companies utilize Despatch equipment for their annealing, drying and pyrolysis needs.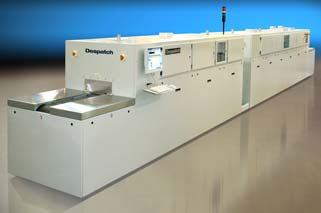 Healthcare: Pharmaceutical, Medical Device and Optical
Despatch equipment plays a pivotal and multi-faceted role in the healthcare industry. Their world-renowned depyrogenation tunnels sterilize vials used for liquid pharmaceuticals. The products they touch in the healthcare industry often have a tremendous impact on people's lives. In addition to pharmaceutical vials, their equipment cures and sterilizes contact lenses and many different life-saving medical and surgical devices.
Products: Thermal Processing Solutions:
Despatch's line of standard products is extensive, including over 250 models of laboratory, production, clean process and specialty ovens. Though categorized as standard, it is common practice for their sales and engineering teams to customize standard model equipment to include customer-specific features.
As in other industries, the Despatch photovoltaic brand is synonymous with quality and performance. Their products are consistently recognized for exceptional performance, process quality and maximum equipment up-time resulting in improved cost of ownership.
No one has more proven success in partnering with customers to deliver complex thermal processing and environmental simulation solutions for research and development, production and product testing. That's why when it comes to evolving an existing application or implementing a first-of-its-kind process, more global businesses choose Despatch Industries.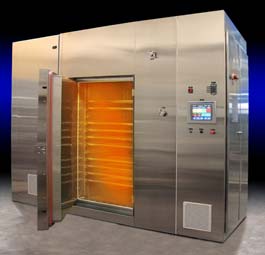 Innovation Center:
The Despatch Industries Innovation Center is a unique facility for process and product development and evaluation with a simple, singular focus: To provide customers with cost-effective solutions up front—before equipment design begins or purchase commitments are made. This proven approach significantly reduces purchase risk, speeds production, ensures process integrity and saves customers time and money. Despatch Industries has executed over 3,000 Innovation Center projects that have assisted their customers in developing advanced process technologies in aerospace, energy, electronics and healthcare.
Global Service & Support:
With other thermal equipment providers, service stops after the sale. Not with Despatch. They provide expert technical service, a range of installation options and an extensive parts inventory to all of their customers worldwide.
Despatch Industries is listed in these service categories:
Technical Articles