Profile Home
Supplier:
Microchip Technology, Inc.
About

Microchip Technology Inc. is a leading provider of microcontroller and analog semiconductors, providing low-risk product development, lower total system cost and faster time to market for thousands of diverse customer applications worldwide. Headquartered in Chandler, Arizona, Microchip offers outstanding technical support along with dependable delivery and quality.
Innovative Portfolio
8-, 16- and 32-bit PIC® Microcontrollers and Digital Signal Controllers
How will you control it?
Need all-in-one capability?
From low cost, low power and small package requirements to leading edge and feature rich performers, Microchip's devices are based on a powerful RISC core with industry-leading, self-programmable Flash. Number one in market share since 2003, their 8-bit MCUs are the heart of Microchip's business with over 6 billion MCUs integrated into consumer and industrial electronics. Their proven architecture and easy migration strategy is expanded into their 16- and 32-bit families to provide the same robust features with the added benefits of powerful peripherals to drive today's high speed and low power electronics.
Analog & Interface Products
Need analog?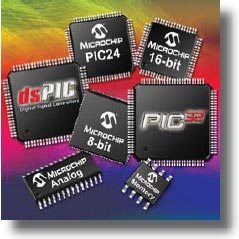 How will you interface to it?
Microchip provides an extensive portfolio of linear, mixed-signal, power management, thermal management, battery management and interface devices for just about any need. Go beyond RF with their integrated and stand-alone wireless product offerings. Consult the product listings for information on specific types of products and thousands of device options.
Serial EEPROMS
Need stand-alone memory?
Microchip also offers one of the broadest selections of serial EEPROMs in densities from 128 bits to 1 Mbit, with operating voltages down to 1.7V, in all popular bus protocols (I2C™, Microwire and SPI compatible). Their memory products are available in all standard temperature ranges from -40°C to +125°C and packaged in the world's smallest standard packaging: up to 16 Kbits in a 5-lead SOT-23 package and up to 256 Kbits in 8-lead MSOP package.
Secure Data Products
Who needs security?
An ideal solution for unidirectional Remote Keyless Entry (RKE) systems is Microchip's KEELOQ® code hopping algorithm. The KEELOQ code hopping technology creates a high degree of security using a long code word length together with encryption and synchronization techniques. This patented technology combines high security, a small package outline and a very low cost.
Technical Articles


1.8 Volt Technology - Benefits
(Data Acquisition and Signal Conditioning)
Portability is and will continue to be one of the key features driving the design and development of new electronic equipment. Existing products such as palmtop computers, cellular phones and data... (
View Full Article
)