About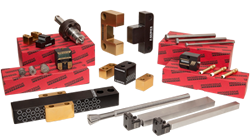 Progressive Components is the only American owned, independently operated developer and distributor of componentry and software for the injection mold industry. From humble beginnings over twenty five years ago, we're appreciative of the opportunity to continue to develop new solutions to assist molders and mold builders.

Wee are pleased to present to you Version 11 of our Progressive Components catalog which includes the widest scope of offerings in our company's history:
Off-the-shelf Standard Components and an increased range of Mold-Ready Components.
Alignment Locks and Plate Sequence Control items, to help keep molds in production.
Standard Lifters, CamActions and Collapsible Core solutions offered for molding undercuts.
Expanded Mold Monitoring capabilities, from CV cycle counters to CVe Monitors, and the growing CVe Live platform, with System Cooling for monitoring a mold's cooling circuits.
Toolroom Supplies and Software that help to advance mold maintenance and repair.
Supplier Directory Categories
Progressive Components is listed in these categories: