About
CTRL Systems, Inc. designs ultrasound technologies and implementation programs for energy savings and condition-based monitoring applications. CTRL's programs are supported by comprehensive training, data capture equipment, online graphing & trending software and ultrasound sensors.

CTRL has the distinct pleasure of supporting NASA's International Space Station, Lukoil, Boeing, Tyco Electronics and all branches of the U.S. military.

Products & Services

UL101 – hand-held ultrasound detector (all kits contain the UL101)
Air Audit Kit - air leak detection and energy savings
Full Kit - condition-based monitoring and predictive maintenance
Corona Kit- electrical arcing and corona discharge

SoundCTRL – ultrasound data capture device
Sound CTRL captures ultrasound readings from the UL101 and plays back an audio/visual recording of the component under test for real-time data capture and analysis. It also calculates the root mean squared amplitude and displays anomaly indicators.
InCTRL – online ultrasound trending and reporting software
InCTRL organizes, trends, and graphs ultrasound readings captured by SoundCTRL and the UL101. This online software has built-in call-to-action emails for failing components. InCTRL is web-based giving users access to data points anytime, anywhere.
Training & Integration
CTRL provides all levels of training from full program implementation to half-day quick start programs.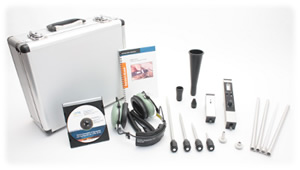 Ultrasound Applications
Predictive Maintenance / Condition-based Monitoring
Energy Savings
Leak Detection
Integrity Testing
Steam Trap Assessment
Critical Valve Diagnostics
Electrical Arcing and Corona Discharge

Supplier Directory Categories
CTRL Systems, Inc. is listed in these categories: