About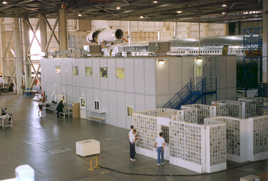 Ebtech Industrial Building Solutions™ is a global supplier of modular building systems, pre-engineered structures and hardened protective technologies. Based in Connellsville, PA, our products are not only manufactured and assembled in the USA and market proven — they're also backed by a 10-year limited warranty. Ebtech's wall systems offer unique, complementary advantages for many specialized building and materials needs. Going forward, Ebtech's Hardening and Protective Systems division, and partnership with PPG Industries, positions Ebtech at the forefront of specialized building solutions on a global scale.
15 Years Global Experience means Expert Level Design
Ebtech has been designing, manufacturing, installing and assembling specialized building systems globally for over 15 years.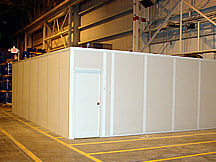 Our proven experience in delivering innovative, industry-leading modular building solutions for the toughest structural challenges makes Ebtech the leader in customized building solutions for any application.
Faster Build Time means Less Down Time
In this extremely competitive world, businesses can't afford to lose days of productivity due to prolonged construction time. Modular structures from Ebtech will get your people back to work fast. In most cases, a modular office can be fully assembled and operational in just a few days compared to conventional construction. Also, modular assembly reduces construction mess.
Built to spec. means designed for Your Specific Needs
Ebtech learned early on that rarely are any two building needs exactly alike. Our competitors want you to adjust your needs to THEIR products. But at Ebtech, we design standardized components that go together in custom configurations. Let our design specialists work with you to meet your needs and help you get exactly the structure you need. Every Ebtech modular structure is designed to the industry's most exacting standards, expertly engineered and fabricated, carefully packaged and shipped direct, most times, in less than three weeks.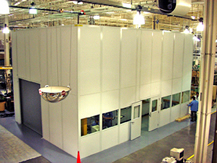 Dedicated support means Faster Response Time
When you need something, you usually need it right away. Ebtech's dedicated support staff is here for you to keep your project on track and on time. Ebtech's national dealer and rep network is tied into our support system to get you whatever you need, when you need it. Whether it's a same day quote, installation help, or CAD-based design assistance, a quick call to Ebtech will get you started fast.
10 Year warranty means Guaranteed Quality
Every Ebtech modular structure is shipped with our 10 year warranty that guarantees the building will be free from defects in materials and workmanship for a period of 10 years.
Supplier Directory Categories
Ebtech Industrial Building Solutions is listed in these categories: