Profile Home
Supplier:
Interplex Industries, Inc.
About
Headquartered in Singapore, Interplex is a vertically integrated, global manufacturer of small precision parts and assemblies, operating from over 40 worldwide locations in 14 countries and offering complete solutions from complex development and into scalable high-volume production. Interplex's network of engineers develop solutions that fit the manufacturing needs of their customers and then match up those needs with the best Interplex production facility.

From the operator on the manufacturing floor, to the tool maker in the tool room, to the engineer at the CAD station, the employees of Interplex have one thing in common: They have the expertise and knowledge to engineer and manufacture complex parts and assemblies. Interplex continues to expand its technologies and capabilities, driven by the singular mission to deliver innovative solutions and services to their customers.



Automotive




Mobile Devices




Medical


Electronics &
Electronic Modules

Mil-Aero /
Industrial

Semiconductor
Packaging
Quality

A core part of Interplex's global heritage is its commitment to quality. It is Interplex's policy to produce products that meet or exceed its customers' requirements. Providing high quality products, that are defect free and delivered on-time is the objective of each Interplex location.

To ensure this, the quality system of each Interplex component production facility is ISO 9001:2000 registered. In addition, many Interplex facilities have obtained TS 16949 certification. Interplex's quality system employs the use of in-line vision control systems, statistical process control and six sigma methodology as required to meet the company's quality objectives.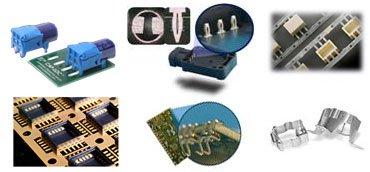 Products Include:
Capacitor Holders
Compliant & Pressfit Technology
Electronic Modules and Packages
Semi-Conductor Packages
Solder Bearing Leads
Power Module Packages
Interplex Industries, Inc. is listed in these categories:
Technical Articles