About
At Profile, they're experts at SMALL! For 19 years, they've focused exclusively on producing the thinnest, lightest, most complex aluminum extrusions that design engineers from over 50 different industries could dream up.
Benefit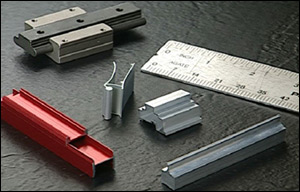 s
Low prototype cost
Eliminate costly machining
The appropriate alloy for your application
Increase cash flow
Eliminate non-core operations
Minimize part size & weight
Increase speed to market
Increase inventory turns

Features
No minimum order size
Net shape capability
Over 50 alloy/temper combinations available
Daily deliveries available
Fabrication: cut to length, punching, CNC machining, anodizing
Extrusions as light as .050 # / ft
Free extrusion design & fabrication consulting
2-3 week lead time on production parts

How Small?
Their press technology allows them to extrude tubing with an outside diameter as small as .157 inches.

How Thin?
They've produced extrusions with wall thicknesses as thin as .016"

How Tight the Tolerance?
Aluminum extrusion industry tolerances are NOT standard at profile. Profile regularly holds dimensions to +/-.001"


Examples of Their Work
1. On March 4th 2005 a new customer sent them the following: "THANK YOU! I just had to write and thank you all for the incredible job you've done in getting our orders in, and on time! What a fantastic job!!! Please thank everyone for us for all their hard work...I'm seeking other parts we can possibly have you make as well."

2. A major medical products company depends on Profile to manage a 20-step fabrication operation covering three suppliers more than 1500 miles apart. Not only has the customer stated that Profile Precision Extrusions provides parts of unmatched quality, but the processing time has been reduced to three weeks from 2 1/2 months.

Supplier Directory Categories
Profile Precision Extrusions is listed in these categories: