30 Watt High Voltage DC/DC Converter
Featured Product from American Power Design, Inc.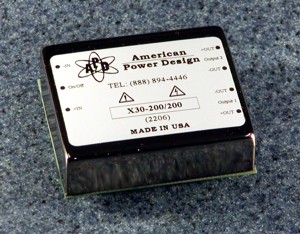 The X30 Series of DC/DC converters accepts ultra wide input ranges of 9-36 Vdc, 20-60 Vdc, & 36-72 Vdc. Outputs are independently isolated. In the case of duals, up to 24 Watts may be taken from either output. All models will tolerate a short circuit indefinitely. Also included is a Pi input filter and remote on/off.
FEATURES
* Customer Selects Output Voltages
* Wide Input Ranges
( 9-36 Vdc , 20-60 Vdc, 36-72Vdc)
* Efficiency 85% (typ.)
* Independently Isolated Outputs
* Remote On/Off Control
* 0.2% Line Regulation
* 0.3% Load Regulation