DynaFly Series Automated Butterfly Valves
Featured Product from DynaQuip Controls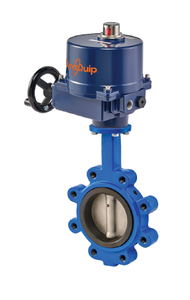 DynaFly Series - Butterfly Valve with Electric Actuator - 700/722 Series
The DynaFly 70 Wafer and 72 Lug Series are the work horses of industrial butterfly valves. Pre-sized and preassembled with our MA series electric actuators, these valves come standard with ductile iron body and disc and abrasion-resistant Buna-N Phenolic Backed Seat for stretch resistant, tight shut-off during actuation and quick and easy field repairs. Other voltages and body or seat materials are available on request.
Please select Search by Specification to narrow product results for a specific application.
70/72 Series Specifications and Options:
Wafer Style (700) or Lug Style (722) Bodies
Standard Body Material: ASTM A536 Ductile Iron
Standard Disc Material: Ni-Coated Ductile Iron Also Available: Aluminum Bronze and 316 Stainless Steel
Standard Seat Material: Buna-N Also Available: EPDM, TFE, Viton®
200 PSI CWP 2-12" direct mount, 175 PSI CWP 14-24" bracket mount
Temperature range: -40 deg F to 350 deg F (Dependent on seat material)
Operator: MA series Electric Actuator (DynaFly Series)
Key Actuator Specifications and Benefits
NEMA 4 Weatherproof/Corrosion resistant housing Manual Override and Non-clutch side mounted hand-wheel
Die Cast Aluminum with Epoxy polyurethane paint
Two (2) 1/2" NPT conduit entries
Self-locking, high allow steel gear train
Reversing Motors, Thermal Overload Protection, 30% Duty rated long life
Four (4) Limit switches for Motor Control and Remote Indication of End of Travel
Adjustable mechanical travel stops and Local visual position indication
120 VAC, single phase standard. Additional voltages available including: 12 VDC, 24 VDC, 24 VAC, 220 VAC single phase OR 230 VAC triple phase.
Key Valve Specifications and Benefits
NEMA 4 Housing with Manual Override and Handle-Wheel
Self-locking gear train and reversing motor
Multiple Voltages Available
Support Shaft Seal: A bonding of elastomer to phenolic backing ring protects against distortion, a common cause of shaft leakage
Wide flange-face sealing area provides a tight flange-to-valve seal and negates the need for flange gaskets
Once-piece 416 Stainless Steel stem shaft ensured dependability and positive disc positioning
Locating holes at bottom and top of Wafer Valve Ease Installation. Lug style valve has drilled and tapped lugs meeting ANSI 125/150 flange standards
Precision Profile Disc provides bubble-tight shut-off and assures minimum torque and longer seat life
Set Screw stabilizes the seat to prevent movement. Positive dead-end service up to 75PSIG MAX
Precision Taper Pin Ensures a positive vibration proof shaft to disc connection
Once-piece 416 Stainless Steel stem shaft ensured dependability and positive disc positioning
Four Bushings furnish shaft support for positive shaft alignment and actuator support
Electric actuators and valve automation designs lead our drive as we focus on the products of tomorrow.
Now entering our seventh decade, DynaQuip Controls Corporation continues its long-standing commitment to designing and manufacturing superior products and providing outstanding personal service. We continue to focus design and development in the area of innovative valve automation and control products that meet or exceed the most demanding needs and expectations of our valued industrial, commercial and residential customers worldwide. Our product lines and design expertise include electric actuators, electronic actuator controls, automated ball valves, automated butterfly valves, pneumatic actuators, manual ball valves and butterfly valves. With our vision and goals focused on the development of quality ideas and innovative control products, and backed by our caring and personalized DynaQuip service, we are honored to serve the needs of our customers and end users in the manufacturing, oil and gas transmission, food and beverage, fluid power, OEM, semiconductor, light industrial, residential, and commercial markets. Never losing sight of the need for safety, energy conservation, environmental protection and personal service, we promise to provide for and protect what came before us and what must remain after us. At DynaQuip we look forward to serving you and we believe that... You simply get more when you choose DynaQuip.