Bar Products
Product Announcement from High Performance Alloys, Inc.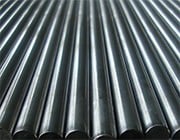 High Performance Alloys stocks mainly round bar products. Our extensive inventory ranges in sizes up to 12 Inch diameter. Normal stock lengths are 12 ft random in length. For example, 12 ft random would be 10 to 12 or 11 to 13 ft. This is industry standard practice. Some bar products are carried in longer mill lengths of 10 to 18 ft randoms. Our inventory serves a dual purpose: we can sell as a distributor product or manufacture custom requirements in bar.
We are capable of manufacturing bar lengths up to 30 ft. Depending on the material required, there may be several tempers or manufacturing methods used. Sometimes the material specification will determine the required manufacturing method by requiring a cold drawn, hot rolled or hot forged condition. The following details some of the types of manufacture we have available for our customers.
---