Automatic Bi-Directional 4WD Drive System
Product Announcement from Hilliard Corporation (The)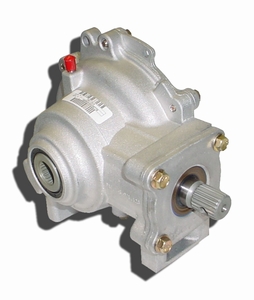 Hilliard's Automatic Bi-Directional 4WD On Demand Drive System can mount anywhere on your drive train. Ideal for both new designs and retrofits.
Drive Train Components and Outdoor Power Equipment Clutches:
• Bi-directional Clutch • CVT with Engine Braking • Wheel Clutch • Linkless Centrifugal • Suspension Systems
Turf damage is a serious issue in commercial lawn and garden maintenance.
Hilliard's Bi-Directional Overrunning Clutches:
• help eliminate turf damage caused by slippage on wet grass or on inclines by providing automatic 4WD in both directions on demand • increase productivity while reducing the need for turf repair
Advantages:
• Senses driving direction and automatically shifts to driving or overrunning modes • Automatic engagement on the fly - no shift linkages required • Precision-machined components • No manual linkages • Eliminates turf damage on wet and sloped terrain • Reliable, durable and long lasting • Positive engagement; automatic disengagement • Constant drive maintained while engaged.
Design Features:
• Hilliard's patented design offers true 4WD in forward and reverse as a differential package • Acts like a locking differential when engaged, but like an open differential when cornering • Applications for all-terrain and light utility vehicles • Proven roller-ramp design.
Contact The Hilliard Corporation for available torque capacities and gear ratios.
Long-lasting roller-ramp assembly:
A key to the operation of the Bi-Directional Clutch is Hilliard's own roller-ramp design. This assembly includes multiple flat cams, cylindrical rollers, roll cage and outer race - all precision-machined to strict tolerances.
Hilliard's precision-machined roller-ramp assembly assures even contact over the entire length of the rollers for improved load distribution. The result is superior reliability and long service life.
Applications:
•Commercial Mowers • Utility Vehicles • Snow Removal Equipment • Golf Carts • All-terrain Vehicles
---