Industrial Leak Detection Starter Kit
Featured Product from HydraCheck Inc.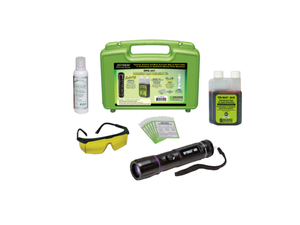 HydraCheck's Industrial Leak Detection Starter Kit is the most effective method of finding fluid leaks in an industrial environment. The starter kit is a perfect way to get into using oil dyes in your hydraulic system.
Works effectively in any enclosed circulatory system where fluids are used for lubrication, hydraulics, cooling control or hydrostatic pressure testing. Fluorescent dyes also can reveal leaks in static systems that can be pressurized or agitated.
Finds leaks fast in small to medium sized oil-based fluid systems!
Ideal for hydraulic systems, compressors, engines, gearboxes and fuel systems.
Features:
Leak detection flashlight works up to 25 feet (7.6 m).
Instant on operation; reaches full intensity immediately.
Anodized aluminum lamp body minimizes corrosion and stands up to years of heavy use.
Treats up to 64 gallons of fluid.