Wireless Bluetooth Pressure Transducer
Featured Product from HydraCheck Inc.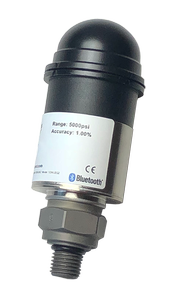 Transducers Direct made history by being the first pressure transducer manufacturer in the world to offer a Bluetooth certified and FCC certified wireless pressure transducer with battery life suitable for permanent installations.
Built on the TD1000 series measuring platform, the TDWLB series wireless pressure transducers make high-resolution digital measurements using very little power, making this technology perfect for wireless applications. These products give the user the ability to view the data either locally on their smart device or remotely using the TDWLB Wireless Router/Gateway and Data Portal. The CirrusSense™ solution allows for alarms to be set to receive audible alerts locally or email/text alerts remotely as well as the ability to log timestamped data and generate reports.
The unit is perfect for Mobile and Industrial hydraulic applications or anywhere you need to monitor pressure without the need for wires. Because it is built on TD1000 proprietary technology, the TDWLB ensures high quality and high accuracy at an affordable cost.
Click here for specs, pricing, and product information.