Interpower Inlets and Outlets
Featured Product from Interpower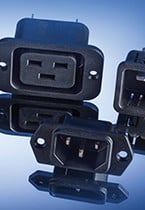 Interpower makes designing for export EASY! Using IEC 60320 inlets and outlets in your equipment allows you to manufacture one device for sale worldwide. Interpower carries filtered and non-filtered inlets and outlets, including medical grade inlets and outlets. The use of jumper cord sets allows you to connect your equipment to any worldwide power mains.
Interpower offers just a 1-week U.S. manufacturing lead-time on non-stock Interpower products, same day shipping on in-stock products, free technical support, and over 4 million components in stock. Order online at www.interpower.com or contact Customer Service at (800) 662-2290 from 7 a.m.-6 p.m. Central Time.
Order a free Catalog on CD today! Email catalog@interpower.com or call toll-free.